Under kitchen sink storage ideas
The kitchen is one of the most used rooms in any house or apartment. The only thing that makes a kitchen more enjoyable is when it's clear of clutter, under the sink included.
Here are some clever under the kitchen sink storage ideas for you to try.
Hang bottles with tension rods
Tension rods are one of the best under-sink storage solutions. They can be used on virtually every surface and also can be fitted to almost any size area. Once they're in a place you can hang cleaning supply bottles from them to free up space from the bottom of the cabinet.
One of the best things about tension rods is they're not permanent and they can easily be removed and reused through the house.
Use file holders to add storage
File holders aren't just nifty organizers for the paper on your desk — they make great storage for under your kitchen sink. They're pretty inexpensive and easy to find at your local paper store or Target.
All you have to do is adhere them to the inside of the cabinet door and you'll have yourself some extra storage. It's a great place to put extra towels, dish brushes or sponges for easy access.
Organize with bins
When organizing, you can never go wrong with a good old bin. They make a great space to neatly organize and group everything into their own neat place. Once everything has its place you can easily stack them to create even more cleared up space.
Expand storage with a Lazy Susan
Let's all thank Susan for being lazy and inventing the lazy Susan. It's one of the most helpful and fun storage hacks on the list. They come in a variety of sizes to fit under any cabinet and make finding what you're looking for super easy. The best part is you just place all your supplies on it and you're done!
Install cabinet towel holders
Similar to tension rods, cabinet towel holders offer extra space in your cabinet while keeping it organized. They're very easy to find and even easier to set up and can be used in a variety of spaces around the home, including under your kitchen sink.
All you have to do is remove the packaging and attach the hooks to the door part of your cabinet. Once you've done that hang anything from them like cleaning supplies, extra towels and even your cleaning gloves.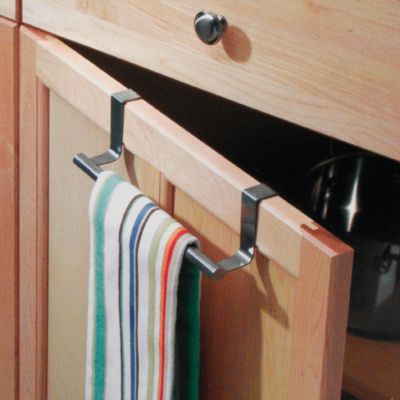 Under bathroom sink storage
Similar to the kitchen sink, the bathroom sink is another space that can be difficult to organize. Fear not we've got you covered there, too! Here are some great tips for how to organize under your bathroom sink.
Store hair tools with PVC piping
When you think of PVC piping under the bathroom sink, storage probably doesn't come to mind. PVC pipes are a great way to store hair tools such as curling irons, flat irons and their cords. Since they come in a multitude of sizing, you can perfectly fit your tools to the pipe. When you have a perfect size the only thing left to do is attach it to the inside of the cabinet doors.
Declutter with sliding shelves
Sliding shelves are a great way to de-clutter under your bathroom sink. They create more space to store items, such as hair products and tools, toilet paper, etc. One of the best things about sliding shelves is the easy access to everything without having to dig through all your things.
Create extra space with cabinet door bins
Creating extra storage in small areas is a great way to accomplish all your organizing goals. One way to add extra space is to add cabinet door bins. They're extremely easy to adhere and also can be removed easily when you're done using them. They also hold quite a bit and are a great place to put your products, brushes, towels and more.
Utilize bins and caddies
As mentioned above, a bin or a caddy is one of the most useful tools to create a clutterless space. Get a large bin specifically for towels and toilet paper and they usually take up the bulk of under sink storage. Use smaller bins for other supplies and stack them to create ample, organized space.
You can store a number of items under your bathroom and kitchen sink. Although, there are some items more suitable for under sink storage than others.
Things to safely store under your kitchen sink
Sponges, cleaning brushes, gloves
Cleaning supplies, such as glass cleaner, dishwashing pods, soap. When storing cleaners underneath the kitchen sink, keep in mind who is in your household. If you have small children that enjoy exploring cabinets you may consider placing cleaners out of reach or adding childproof locks on the door. Another idea is to place all your cleaning supplies on a rubber tray in case of spills for easy cleanup.
Trash bags
Trash can
Recycling can
Things to safely store under your bathroom sink
Toiletries, such as extra toothbrushes and paste, deodorant, contact solution
Toilet paper
Towels
Hairstyling tools
First aid kit
Things to avoid putting under the kitchen sink
Bug spray
Oven cleaner
Lightbulbs
Food